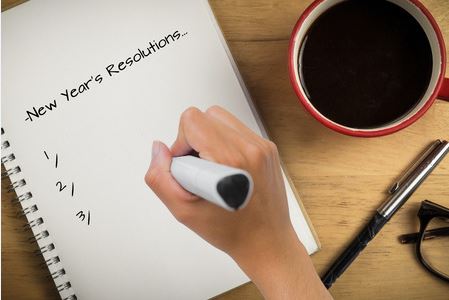 As the calendar passed from 2017 to 2018, it's time for new year's resolutions, right? What are some resolutions dog owners can make?
Resolutions to Consider
Well, almost everyone decides they're going to eat healthier and exercise more, and that can go for dogs, too! Better yet, it should be a resolution for both dog owners and their dogs. How can a dog owner accomplish this? For starters, 2018 should be the year you decide to measure the food you give your dog, rather than just letting him or her eat to the point of obesity. As for exercise, you probably already do dog walks, so this year, spice things up with some new routines. Perhaps visit an area dog park once a week, or go to a "dog gym" and experience "dog yoga (aka doga)." Yes, that is a thing nowadays!
Next, make this year the year your dog gets microchipped. The microchip is a modern miracle for lost dogs. In the old days, dogs would lose their tags and then be lost forever. Today, however, a microchip can be implanted in your furry friend with your name, phone number and address. That way, if the dog ever wanders off, you've got a much better chance of getting your loved one back. If your dog already has a microchip, ensure that the info is current. Many people move or change numbers and forget to update their dog's microchip info.
When's the last time you took your dog for a grooming session or a visit to the vet? It's easy to get lax about those things, so in the new year, resolve to take your dog to both a groomer and a vet twice during the year. Call ahead and make your appointments– for example, for March and for November. These appointments are important because they help ensure the dog is healthy and happy. They get their nails trimmed, their teeth brushed, and other "maintenance" things.
Finally, let the new year bring new games and tricks! Rather than letting your dog get bored, decide to teach him or her one new trick per month. Come up with new games that will get their brains working. Doing so will strengthen your bond while also showing your pet dog you love them and want to "play" with them. Dogs CRAVE attention and mental stimulation. In 2018, resolve to pay your dog even more attention than last year!