My dogs love this place!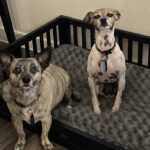 Tailwaggers Country Inn is the best place for my dogs to stay when we need to make sure our dogs will be taken care of and looked after on a 24/7 basis. It's "No worries, be happy" for me because I know they are in good hands. They enjoy socializing with the other dogs. I know they are supervised while playing so I don't have to worry about them. I highly recommend Tailwaggers Country Inn to anyone wanting to let their dogs enjoy themselves while they are out of town.
Ronald Petty
Bailey's second home
We've boarded our dogs at Tailwaggers since 2001 and have always been well pleased with the care provided. Bailey bounds in with glee to greet the staff as his best friends. We wouldn't leave him anywhere else.
Ruth Gray
"Dog Gone Great"
Tailwaggers Country Inn is a resort-like atmosphere for our baby girl…Stella (1/2 greyhound & 1/2 Great Dane). Before we saw the advertisement on TV about Tailwaggers we worried about our precious girl when we had to leave her while we travel. Now we have a peace knowing she is in great hands and well cared in the resort-like environment. The first time we took Stella to Tailwaggers she was shaking like a leaf in the wind. The Tailwaggers's staff immediately made her feel comfortable and made sure she was happy before I left. Also, they reported back to me how well she was doing and when I picked her up they gave a report about her stay. I was blown away by the "dog gone great" service. I highly recommend Tailwaggers Country Inn. Thank you Tailwaggers
Cheryl Inman
My Fur-babies Love Tailwaggers
I don't usually post reviews, but for Tailwaggers Country Inn, I am going to! My fur-babies, Baron and Harley love going to Tailwaggers. The staff there treat our boys like one of the family. We love the fact that we can see them in their room via the Tailwaggers Camera. We have been using Tailwaggers ever since we moved to Anna Texas.
Krause Family
Eva Krause
Best Place to Board a Pair of Dogs
We have 2 Chesapeake Bay Retrievers who have stayed at Tailwaggers for one to six nights at a time. We live in Denison and Tailwaggers is on the way to and from the airport so that works great for us. Our dogs are large dogs and the play and open areas are very important to us. The dogs have always been bathed and ready to be picked up and seem very happy. We have always been happy with service and care of our dogs, I do not know of a better place to board a dog.
Richard Cansler
Fun Time
We are so impressed with Tailwaggers Country Inn. This was our first time to leave our 9 month old Aussie puppy anywhere and we are so glad that our friends recommended Tailwaggers. Pictures were posted of him playing with other dogs and I received a report card of his visit and experiences. When we picked up our puppy we could see him playing with other dogs snd it was heartwarming to know that he had not been sad or lonely in our absence. We want to thank everyone who worked with D'Jango so much!!!
Betty Higdon
AMAZING PLACE
The entire team at Tailwaggers is amazing! Our dog, Ammo, is an anxious guy. We rescued him a little over a year ago and he is not a good candidate to go in a crate. The biggest stress about traveling over spring break was trying to figure out the best place for our Ammo to go and hoping he would be happy. Let me save you the time of hunting…look no further than Tailwaggers. Our family cannot thank the staff of Tailwaggers enough for taking such wonderful care of Ammo. We are going to be customers for life.
The West Family
Nervous Mom
I had never left my 9yr. Handicapped Boxer in a kennel before. I was able to enjoy a wonderful vacation knowing she was being so well cared for at Tailwaggers! That have an awesome facility and staff. They truly love the pets that are left in there charge. She got so much socialization with other dogs even though her back legs are paralyzed. She will definitely be visiting them again!
Shanda Philley
Animal Lovers
We have been taking our animals to Tailwaggers for years. We have used their boarding facilities and also take our dogs there for grooming. The staff is friendly and caring and obviously love what they are doing. I highly recommend them!
Shelbie Linton
Big Space, Big Fun
Suzen and her team have been wonderful to our Weimaraners through the years who love the spacious kennels and frequent play times to run and play. From the friendly drivers who pick up and drop off to the staff on site, we're always confident our dogs are well cared for.
Brad Watson
Happy Dog and Owner
Tailwaggers is phenomenal from the convenience of the van service that picks up my pup to the caring and nurturing staff. I am able to send my happy Golden to Tailwaggers knowing he is well-cared for and that he is having a wonderful time.
D. Kern
Sincerely Grateful
Thanks again for all that you have done and are doing for us, your facility and the care you show is second to none and we greatly appreciate it.
M. O'Halloran
Always Worth the Trip
We've never been in a facility where the animals seem so content, happy and so at home! We especially appreciate your care of Shiloh's special needs as he aged. There's nowhere else we'd consider taking Shiloh.
The Dean Family