Nothing Else Like It
-34 acres consisting of 20 designated fenced play parks
-In-ground filtered pool
-Gymnasium
-over 15,000 sq.ft. of facilities under heat and air
-24/7 staffing
-Trained, certified & experienced pet counselors
-State of the art grooming salon
We Are Pet Lovers
It takes special people to care for your four legged "Fur Babies." We are passionate about your dogs and cats as we are about our own. We feel privileged to have the opportunity to know and care for your adored family member. There's nothing we'd rather be doing. So, we invest in creating the most wonderful facilities, and we prudently hire staff who share our same abundant love and passion for all of our canine and feline friends … your family members!
The Owner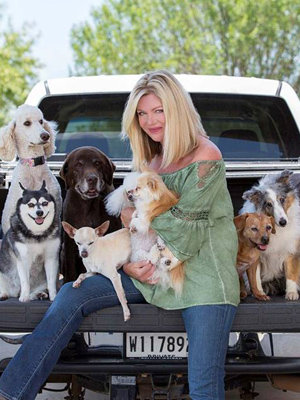 By the age of 18, Suzen Dennis Lambring had already left her hometown of Toronto, Canada, rented an apartment in Manhattan, and landed a contract with the prestigious Ford Model Agency. She had the dream life of international travel, adventure, money, and the opportunity to meet and know some very interesting people… musicians, actors, and artists.
Having had exceptionally deep connections to her own pets, Suzen initially only wanted a six month break from modeling to spend time with them. But she spent that time dreaming of the perfect pet retreat. Many exciting years later, she has turned that dream into a thriving business and one of the most unique and wonderful pet retreats in the country.
In addition to making sure her pet-guests receive the highest level of care, Suzen enjoys spending time with her husband Michael, children Julian, Ashton and Tatiyana, many pooches, kitties, horses and ferrets!
The Inn
Tailwaggers Country Inn is situated on 34 lush acres of beautiful countryside, and offers over 15,000 sq.ft. under roof with central heat and air for the comfort of our guests. Tailwaggers is a versatile building that features a sophisticated filtered air exchange system, which regenerates the air every 20 minutes throughout the entire building to help guard against unwanted airborne viruses. The newest addition is our Lodge Hotel which offers VIP 6'X8' Lodge Suites with 6'X8' private patios, 42" Tv's playing the "Dog TV" channel, and webcams or VIP 10'X12' impressively furnished Hotel suites with 10'X12' attached private patios.
We have 20 different "Playparks" ranging from a quarter acre to 2 acres each!. This allows our pet care counselors to get all our guests out to play first thing in the morning in appropriate groups, without having to wait turns, over-crowding the area or compromising the safety of the pets.
Our swimming pool is an in-ground filtered pool, and is the delight of the Labs, Golden Retrievers and other water dogs that vacation with us.
Our cozy lobby is most welcoming and spacious with the warmth and glow of a beautiful stone wood-burning fireplace. Soothing music is piped throughout the inn at all times. All of this sets the tone for the loving experience your pet will receive.
Pets enjoy TV time and cuddles with their counselors, where they are surrounded by new friends in an environment that feels like home.
All guests suites are equipped with Kuranda elevated orthopedic dog beds.
For the comfort of our guests, a stay at Tailwaggers Country Inn can include luxurious private VIP suites, equipped with web cams, televisions, and even their own private covered patio.
Our full service grooming salon has 2 elevated bathing tubs and a stand up shower for large breed dogs. For geriatric pets, we have hydraulic grooming tables.
The Staff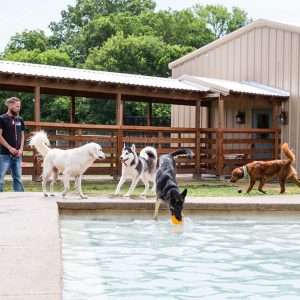 In choosing a dog & cat boarding kennel, you must consider the people who will be caring for your special friend. Dedication, patience caring and an undying passion for dogs and cats is a requirement for staff at Tailwaggers Country Inn. We see each little friend and big buddy as a very important member of your family. Likewise, the staff of Tailwaggers Country Inn are practically members of ours– several being part of this pet-loving family for over 10 years, and many more have been around for over 5 years.
All team members are required to obtain extensive training and certification in pet management care, CPR for pets, and animal first aid.
From our highly competent pet counselors to our bathers, stylists and drivers, we ensure your pet will receive the most attentive and caring experience while a guest at our facility.