Why do dog owners seek out the services of a pet groomer? Well, groomers have both the know-how and the tools to handle things like nail trimming, ear cleaning and teeth cleaning. How does a person find "the right" dog groomer? Like with most things, research helps.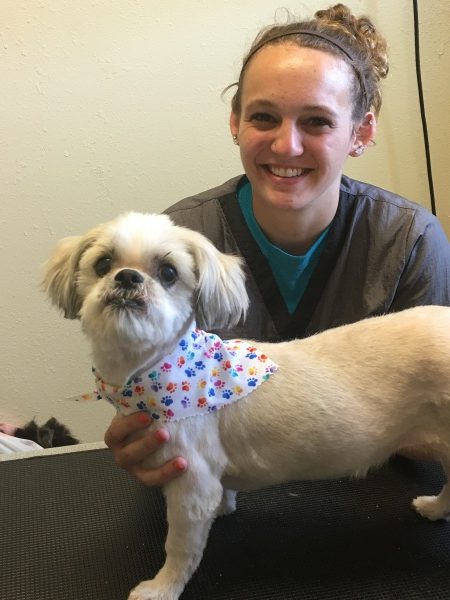 Word of Mouth
If you know other dog owners in your area, ask them who they use and what they think of the service. You can ask friends and family for recommendations. You might also want to search online for reviews and opinions regarding area groomers.
A Look Around
How about visiting local groomers and just taking the time to walk into their place of business and see what it looks like and how dogs are treated? You can learn a lot from an exploratory visit. Plus, while there, have a conversation with the groomer on duty. Does he or she make you feel comfortable? Do they look like they know what they're doing? Does the dog being groomed look okay (or not)?
Besides seeing a facility in person, what are some other things to consider when trying to find the right dog groomer for your pet dog?
See How It's Done
You could ask if you'd be able to stay and watch them groom your dog. It's not an unreasonable request. You could also ask what their services include, so you know exactly what your dog would get– for instance, do they do more than just haircuts?
Other Specifics
If you want to get down to specifics, ask your potential groomer if he or she has experience with your dog's particular breed and then ask about their training– did they have an apprenticeship? Were they mentored? Can they show you any evidence of their training, such as a certificate of completion from a school?
What kind of products does your potential groomer use– and do those products agree with you, or not?
When your dog's not on the grooming table, where and how will he or she be housed at the facility? Does the place look safe, clean and accommodating?
Finally, when searching for the right dog groomer, find out if he or she carries liability insurance. It's also a good idea to ask them, "Do you have a plan in case there's an emergency? If so, what would you specifically do?"
If you're looking for reliable dog grooming services in Van Alstyne, TX, contact Tailwaggers Country Inn today.