What are some key things to think about before you send your dog to a pet resort vacation at a place like Tailwaggers Country Inn?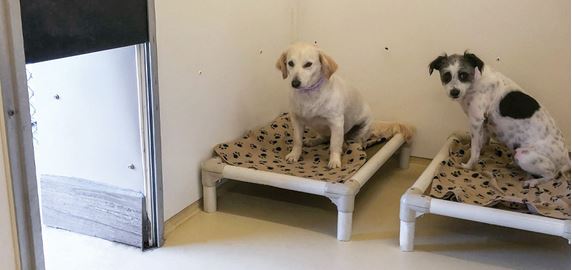 Limited or Full Service
Some resorts have limited service while others are "full service, all inclusive," like Tailwaggers. What does that mean? Well, full service, all inclusive means everything is provided for your dog's stay so you don't "have" to bring much, if anything… For instance, the list includes beds, bedding, water and food bowls, leashes, collars, toys, balls, treats and grooming products.
Items to Bring
What are some things you should bring with your dog? How about vaccination records? It's important that your dog is up-to-date with his or her required vaccinations, since your dog will be in close contact with many other dogs at the resort. These vaccinations typically include Bordatella, Distemper and Rabies.
Diet Details
What about dogs on prescription diets? If you have a dog with a very specific diet and/or a sensitive stomach in general, you might want to send your own food with your dog. Ideally, you should proportion it out using individual baggies "per meal with instructions." Pet resorts typically don't want any large containers or bags of food– places like Tailwaggers prefer well-labelled little baggies.
Medication Plan
If your dog takes medication, you should bring it in its original container or a plastic baggie with instructions detailing the dosage and number of times/times of day it's to be given to the dog.
Things Best to Leave Home
Though you may be tempted to send various toys and blankets with your dog for his or her resort stay, it's best that you do not. If you do, there's the risk that those items could become lost, chewed or damaged and you wouldn't get them back. Tailwaggers Country Inn, like most places, says, "We're not liable for any lost, chewed or damaged belongings while your pet is boarding."
Convey Special Requests
Finally, it's a good idea to explain to the caretakers– before your dog arrives– any health issues they should be aware of, including things like extreme anxiety.
For more information about overnight boarding at Tailwaggers Country Inn, please visit here. Located in Van Alstyne, Texas, Tailwaggers can be reached at tailwaggersinn@aol.com or by calling 1-877-774-DOGS.