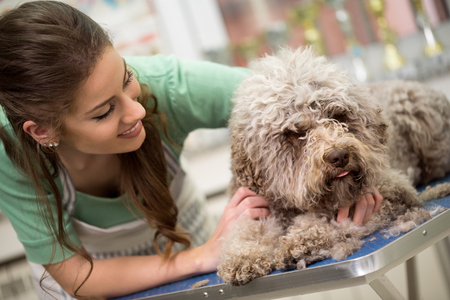 "What happened to your dog?" These are words you never want to hear about your precious pet. Yet those words have been said before, when asking about the way a dog looks after a well-meaning dog owner decided to groom him or her in their own "do-it-yourself" way…
What are some of the advantages of taking your dog to a professional groomer rather than doing it yourself?
Time Saver
Ultimately, a professional groomer can end up saving a dog owner time and energy. For those who don't have a lot of patience, it's nice to give the dog over to someone who does… especially if the dog has behavioral issues.
Tools for the Job
Professional dog groomers have all the right tools to groom all types of dogs. From electric razors to adjusting grooming tables, groomers who do it for a living get to see and know a lot of different types of dogs. Because they're around dogs all day, they get to know how to work with ones who might be timid/shy and/or loud and aggressive. Furthermore, they know what to look for– fleas, ticks, skin irritations, etc. And if the dog is a show dog, most groomers know how to breed show cuts– which requires extreme attention to detail!
A Stomach for the Tough Jobs
What about the yucky stuff? Do you really want to clean your dog's anal glands? Have a professional do that! What about shampooing a dog who's covered mud or met a skunk? Does the idea of removing fleas and ticks make you squeamish? Have someone else do it for you.
Tailwaggers Country Inn has a state-of-the-art grooming facility. Your pet receives individual attention. Furthermore, when a dog has a grooming appointment he or she receives a complimentary "daycare" on that same day as part of their spa package, so they'll get to socialize with other dogs and have fun. Tailwaggers also makes it easy on dog owners with door-to-door pick up/delivery in the Dallas area six days a week, for your convenience. Why not sign your dog up for a bath & brush out or a relax & rejuvenate appointment? We can talk about spa packages over the phone– call 877-774-DOGS today!