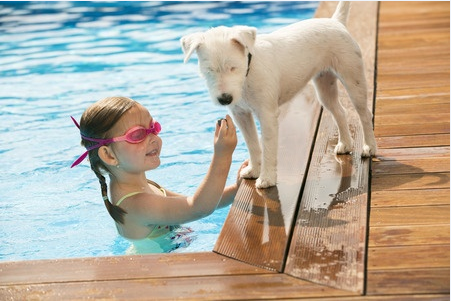 Summertime is not only fun for you, but it's a joyous season for your dog too! Dogs can get cooped up during the winter months with cooler temperatures and busy school and work schedules, meaning that they have a lot of pent-up energy by the time summer comes around. So, what better way to give your dog some healthy exercise and cool off in the summer sun than by allowing them to go for a swim!
Although the pool is a paw-fect place for your pet to have a barking good time, it is important to keep your furry friend safe while enjoying the water. Here are a few safety tips will help you be the best fur parent you can be!
Can Your Dog Swim?
This seems like an obvious question, but many pet owners tend to assume their pup will naturally know how to swim. This is not always the case, though. Before encouraging your pet to swim by itself, check to see if he or she is a strong swimmer. You can start with a kiddie pool to judge your dog's reaction to water and work your way up to allowing them to swim in a deeper pool. Remember it is a dog's personality that will determine if he or she is a strong swimmer, not the breed, notes BarkPost. So, it is best to get some practice in to see if swimming is right for your pup.
Be Prepared
Getting yourself and your dog ready for the worst is better than experiencing it and not knowing what to do. Although you should always watch your dog while he or she is in the pool, accidents can still happen. That's why it is important to learn pet CPR! You can even suit up your pup with a comfortable life vest to help ease your worries while they swim. In addition to physical precautions, your dog should know some simple obedience training, so when you say "come" he or she will leave the pool immediately.
Consider the Pool Design
Not all pools are safe for dogs. Just like humans, dogs can become tired when swimming and should know how to leave the pool with ease. Without an easy exit, your dog may swim to the point of exhaustion, which is definitely not safe. Help get your dog acquainted with the pool and its design by swimming with him or her. Showing your pup how to enter and exit the pool will ease your nerves and make your dog more comfortable while swimming.
Protect Your Dog from Chlorine
Do not forget that chlorine is a chemical! Of course, your dog will most likely swim in a pool with chlorine, but it is important to not let him or her ingest it. Instead, be sure to provide alternative water sources to keep your pup hydrated and safe. Once your pup is tuckered out, be sure to rinse his or her coat with clean water to remove the excess chemicals, which can be irritating and harmful to your dog's skin.
Although not all dog owners have a pool for their dog to enjoy, they can find a dog sitter when going on summer vacation that will encourage their dog to have fun in the water. At Tailwaggers Country Inn, we offer the perfect destination for a safe and fun pet vacation. We have an in-ground filtered pool for all of our doggie guests to enjoy! Plus, the experienced pet-lovers pampering your fur-baby will watch with the highest level of care while your pup goes for a swim at our pet resort.  You can count on the professionals at Tailwaggers to be vigilant lifeguards while your pup swims and all throughout their stay with us. Schedule your pet's stay at Tailwaggers Country Inn today by calling 877-774-DOGS.