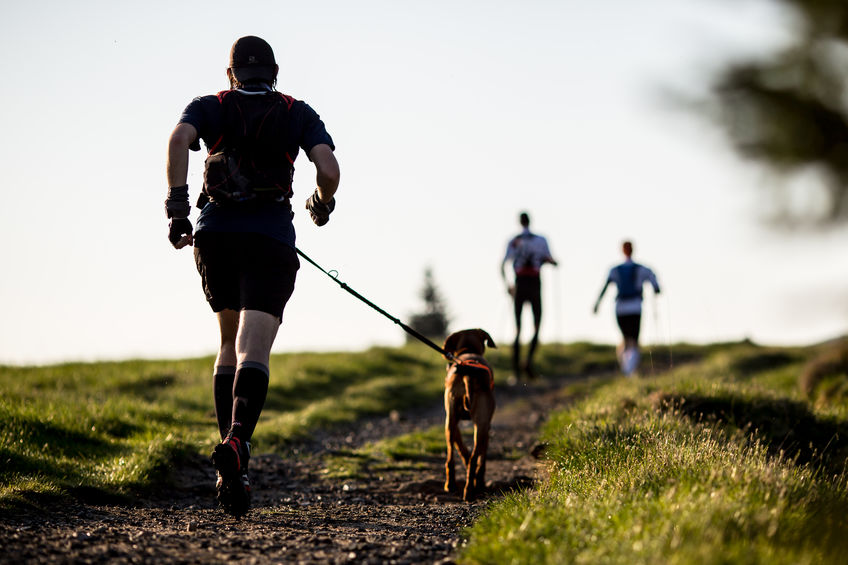 Dogs need regular exercise to stay healthy and fit. Just like food and water, exercise is another one of your dog's basic needs. For most dogs, the recommended amount of exercise is anywhere from 30 minutes to 2 hours. However, some breeds might need more. Whether you're looking to increase your dog's activity per day, or you want to find some new activities to try, here are a few of our favorite ways to exercise with your dog!
Play Frisbee with Them
If you have a dog that loves to run, frisbee is a great way to allow them to release some energy. When you play frisbee, your dog ends up running a lot more and burns more energy between tosses. 
If your dog is new to playing frisbee, start teaching them how to play by introducing them to the new toy. You can throw it short distances, or you can roll it along the ground while encouraging them to chase it. Once your dog starts getting the hang of it, you can start adding more distance with each throw.
Play Tug of War
A fun and easy way to exercise your dog physically and mentally is by playing tug of war. This game will also encourage your dog to work on their impulse control.
Remember, it's ok to be strict with your dog and stop playing if the game becomes too aggressive.
Take a Walk with Your Pup
Daily walks are another great way to practice both physical and mental exercise. Often, daily walks will encourage your dog to socialize with other dogs and people. It's important not to rush through your walks. Give your dog some time to sniff around and explore new things.
Jogging with a Dog
It's worth noting that not every dog will be able to keep up with you as you run. Some breeds can get tired easily. However, others might love it so much that they'll want to keep going once you're done. Although off-leash running may be easier, it's usually not recommended for safety and legal reasons. 
If this is your first time running with your dog, make sure to take small steps before working your way up to higher speeds and longer distances. Remember, always avoid running with your dog in extreme temperatures and take water breaks when needed. 
Practice Nose Work Games
If you're looking for an activity that will keep your pup entertained for a while, try playing the "go find it" game with them. To start playing, chop up some of your dog's favorite treats and hide them around your home or yard. Once all of the treats have been hidden, release your dog by encouraging them to "go find it."
Every time your dog finds a treat, remember to praise them! After your dog starts getting the hang of the game, you can begin to hide your treats in harder spots.
Encourage Your Pup to Swim
Some dogs were born to swim! Spaniels, Retrievers, and Labs are just a few examples of breeds that are naturally great swimmers. Swimming is especially great for older dogs because it's a low-impact, non-weight-bearing exercise that will help increase your pup's range of motion.
Treat Your Pup to a Stuffed Kong
Food dispensing toys will keep your dog entertained for a long time. Fill your dog's favorite toys with delicious treats and have them play with them until the treats are all gone. Once your dog gets the hang of this activity, they will eagerly try to get all of the treats out, which should keep them occupied for at least 30 + minutes. 
Keep Your Dog on a Regular Exercise Routine
It's important to keep your dog on a regular exercise routine. Don't let traveling and other obligations disturb your dog's routine. Instead, bring them on over to Tailwaggers Country Inn. We offer group socialization, playtime, and cuddle time for your pets when they stay with us!
Do you have questions? Give us a call at 877-774-DOGS today!